Felipe Nishimura Zaros
Brazil
Lives of the Nikkei scholarship 'Dream Come True Project' students ~Felipe Nishimura Zaros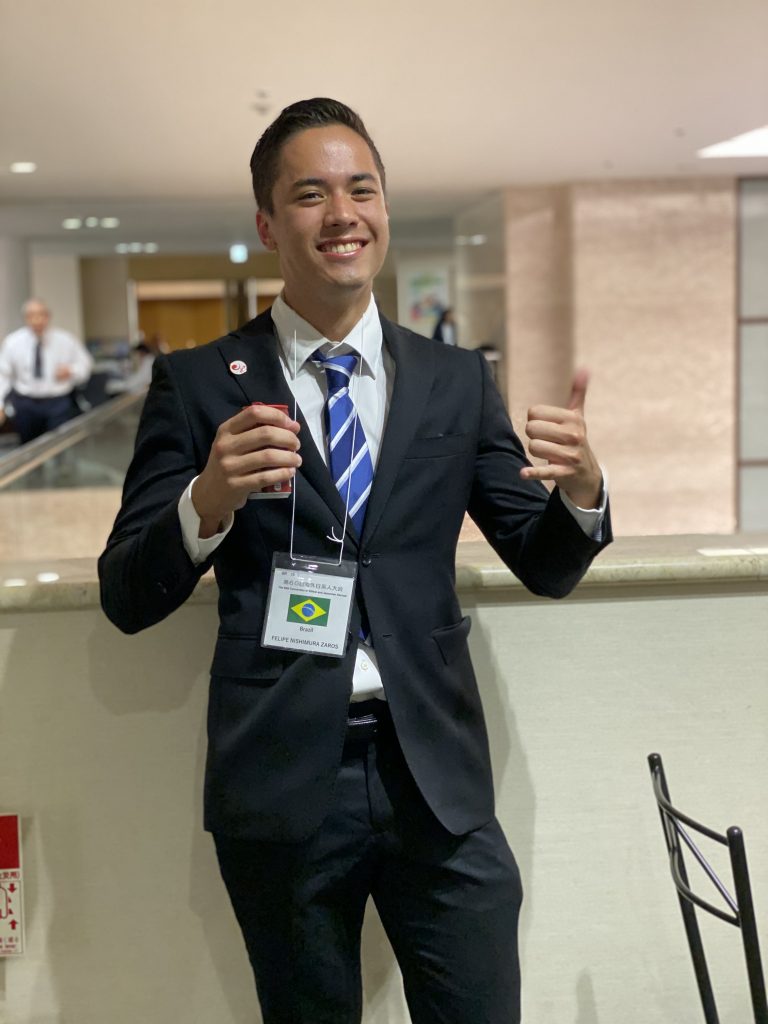 Why did you decide to study in Japan?
I decided to study in Japan, for several reasons, the first thing would be that this has always been my dream since I was a child, I always dreamed of studying in Japan, largely due to the influence of my great-grandfather and grandfather who always made me interest in Japanese culture .
Another reason would be to keep the connection between my Brazilian family and my Japanese family alive, so I always saw the need to learn Japanese.
How is your life in Japan?
In terms of quality of life, Japan is a very good country. Unlike some parts of Brazil, as everyone knows, Japan is a very safe country, but as my city where I lived in Brazil is also very safe, I was already used to it, but most foreigners are frightened by how safe Japan is.
About food Japan has a huge variety of restaurants, currently Japan has a large number of foreigners so you can find all kinds of food (I only lived in Tokyo so I don't know if that's the case in other parts of Japan)
The only negative point of Japan is the high cost of living, in this respect the scholarship of the mikkei scholarship is a divine help because without them I do not know how I could sustain my studies in Japan.
About Nikkei scholarship in addition to offering financial help we can always count on any other type of help, because life for those who are not used to the language or culture can be somewhat complicated, however the Nikkei Scholarship will always help you in relation to these questions.
Tell us about your present study or research.
Currently I study electronic electrical engineering at Tokai University, I am in the first year of college and second year of the scholarship. This year I am studying the principles of engineering, things like calculations, electrical circuits and some introductions to specific materials such as welding and construction of vehicles. In the future I intend to go deeper into electric motors. The university of tokai presents the project of "solar car" where biannually they compete in a race with the solar car 100% assembled in the college, if everything happens as planned I intend to join this activity as soon as possible.
Did your consciousness as a Nikkei change in any way through studying in Japan?
My perspective has changed a lot, but since I was a kid I have always had a relatively high involvement so my awareness as a Nikkei has not changed much. Now speaking of the perspective as Nikkei is much bigger, I only had contact with Brazilian Nikkei but after having contact with Nikkei from all over the world, I understood the extension of what it is to be really Nikkei, the term Nikkei now covers much more.
What is your dream for the future?
My dream for the future is to become a engineer that can be able to help my family with our company, I want be able to make sure all the effords that my family put are not going to be destroyed, I dream to continue their legacy. I also dream to become the bridge between the nishimura family from brasil and the nishimura family from japan.
Please give a message to students who are considering studying in Japan.
Please give a message to students who are considering studying in Japan.
Never give up on your dreams, sometimes it may seem impossible, and often your plans may not go as planned, but don't give up, as this effort will be worth it in the end.