Lives of the Nikkei scholarship 'Dream Come True Project' students ~Kinjo Akira Alex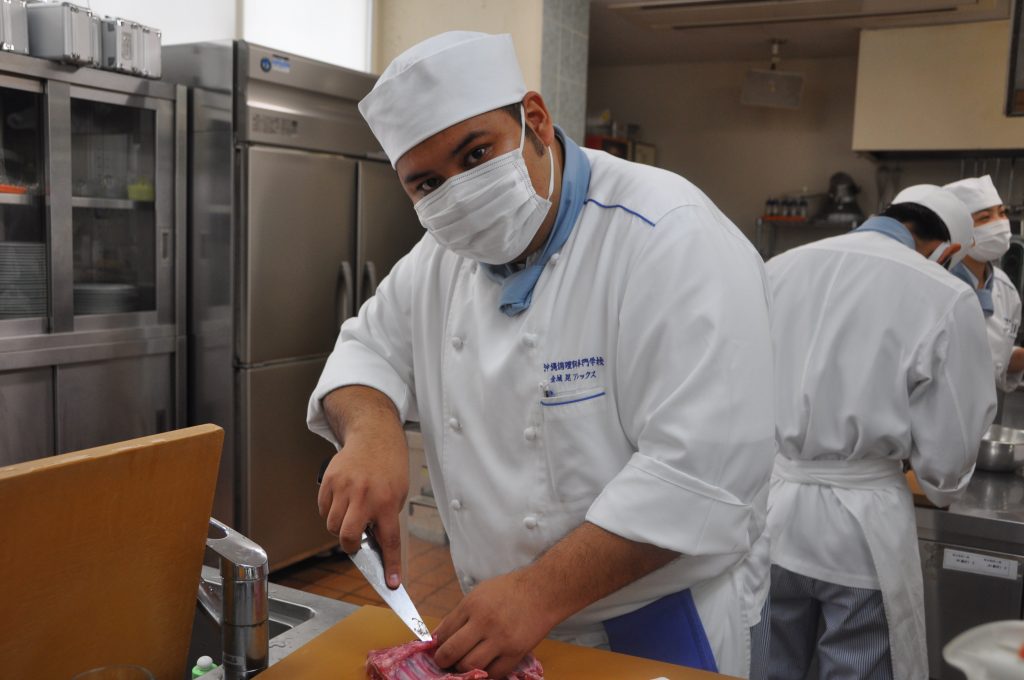 Why did you decide to study in Japan?
I had an opportunity to learn how to cook Ryukyu cuisine as an Okinawa prefecture sponsored exchange student before. I learned many things during the program, but I also have many more to learn. This is why I have decided to study in Japan.
How is your life in Japan?
To be honest, life in Japan is very convenient. There are 24hour open convenience stores everywhere in Japan is safe. It is wonderful in every aspect. My only problem is traveling on trains. There are no trains in Bolivia, so I had difficulties in transferring trains and riding rush hour trains. Apart from that, I really enjoyed the first year. I got to know people not only from Okinawa but also from Tokyo and joined a local baseball team. This created an environment for me to release my daily stress and fatigue. I also appreciate support from my seniors at NFSA. They were always on hand to help me when I was clueless or listened to me attentively when we went for drinks although we had never met before. I am very grateful for their help.
Tell us about your present study or research.
I am studying hard to become a chef. My program includes Ryukyu cuisine so I want to make sure to learn everything. There are some processes which I have learned before, but there are also differences in cooking styles. I want to absorb good points from various areas and master them.
Did your consciousness as a Nikkei change in any way through studying in Japan?
Yes, it has changed a lot. Before coming to study in Okinawa, I thought I probably have similar ways of thinking with the native Okinawans since I'm a Nikkei with roots in Okinawa. However, locals have their own characteristics and personality which puzzled me a little in the beginning. As days went by, I started thinking that there are similarities with my home country. It brought me joy when some of my classmates thought I was a native Okinawan until I revealed that I am from Bolivia. I was very happy to hear this as I have always been proud of my Uchinanchu identity. I will continue to hold my head up high as a Nikkei.
What is your dream for the future?
My hometown is Colonia Okinawa in Bolivia. Traditional arts such as Karate, Eisa dance, Ryuku-buyo dance and so on are handed down but not much Ryukyu cuisine. I want to make sure that Ryukyu cuisine will be passed on to the next generation and expand in Bolivia. It is my dream to create a place where people can enjoy Bolivian, Okinawan and Japanese cuisine all at one place.
Please give a message to students who are considering studying in Japan.
Be courageous to take a step forward no matter what others may say. Opportunity only knocks once. Be brave to seize the opportunity when it presents itself. It will open a new path in your life and changes your perspective completely.